Saint Albert Cross Country
We hope that you enjoy the site and welcome your comments.
Please visit our advertisers as they help make this site happen.
Home of the 1992, 2007, 2011 & 2012 State Champs
Congrats to the Cross Country Team at State!!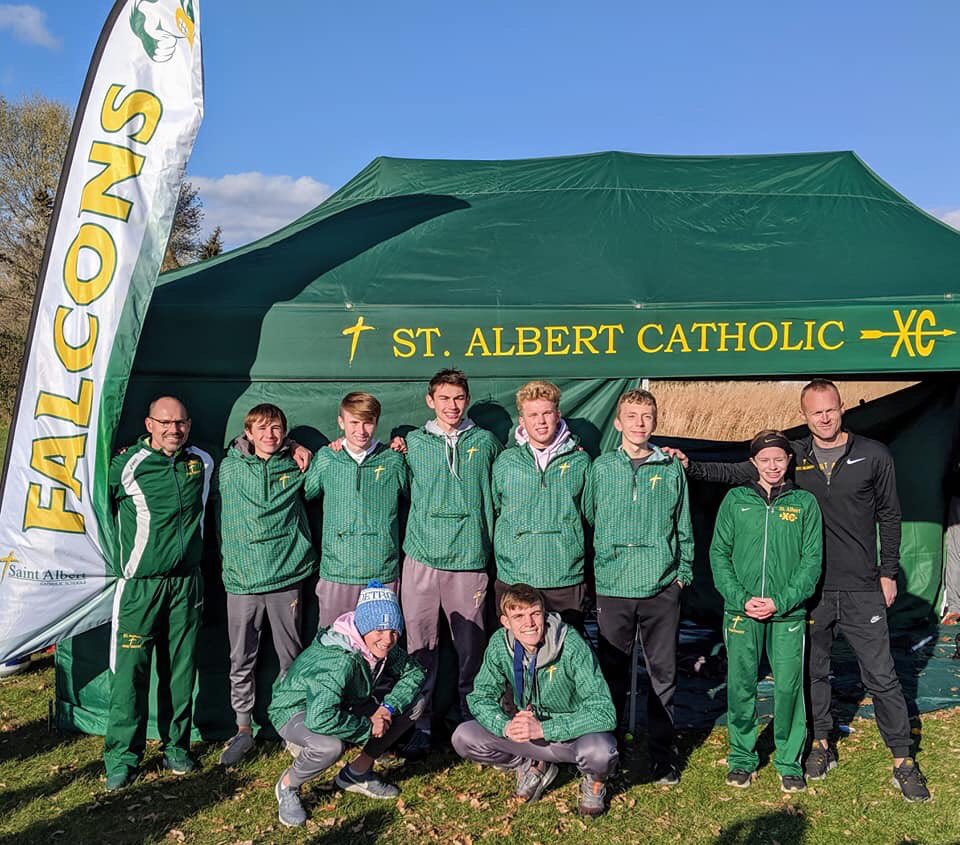 WE ARE……………SA!!
The Saint Albert Cross Country Team saved their best race of the season for the State Meet. Bennett Heisterkamp, ranked #6 in Class 1A coming into the State Meet, Medaled with a 4th Place Finish! The Saint Albert Boys Team, ranked #15 coming into the State Meet, finished in 7th place! Freshman Carly McKeever finished in the top-third in her first run at the State Meet!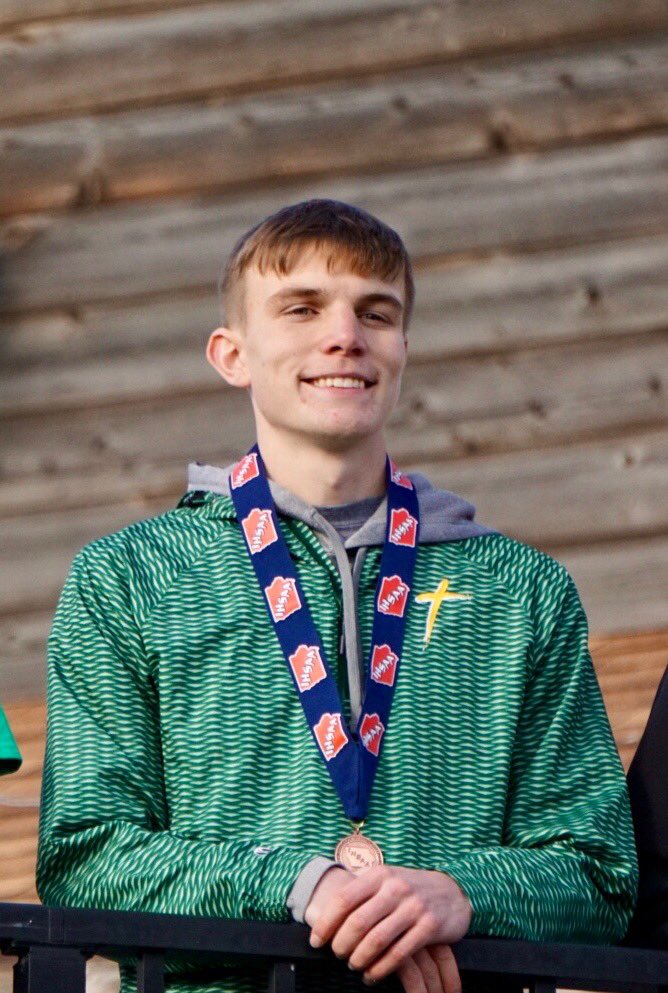 State Medalist-Bennett Heisterkamp.
Senior Leadership: Ryan Hughes, Bennett Heisterkamp, Nick Lee, and Jason Mardesen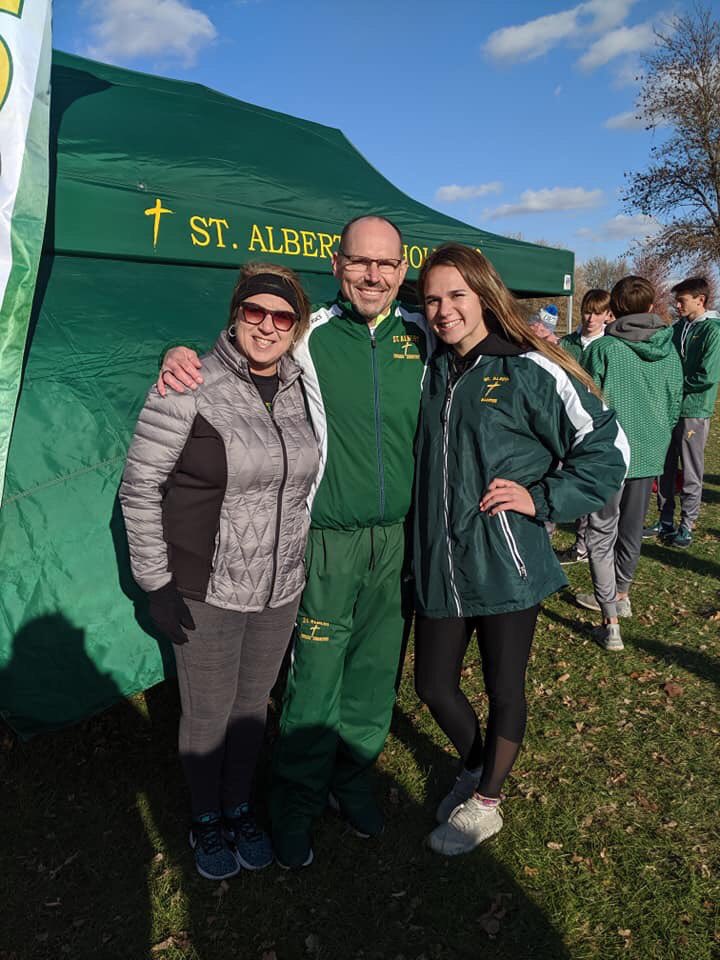 Team Statistician and Manager-Senior Jackie Sindelar, with her parents Kathy and Coach Russ Sindelar
Freshman Adam Denny helping his Team to a strong 7th Place Showing!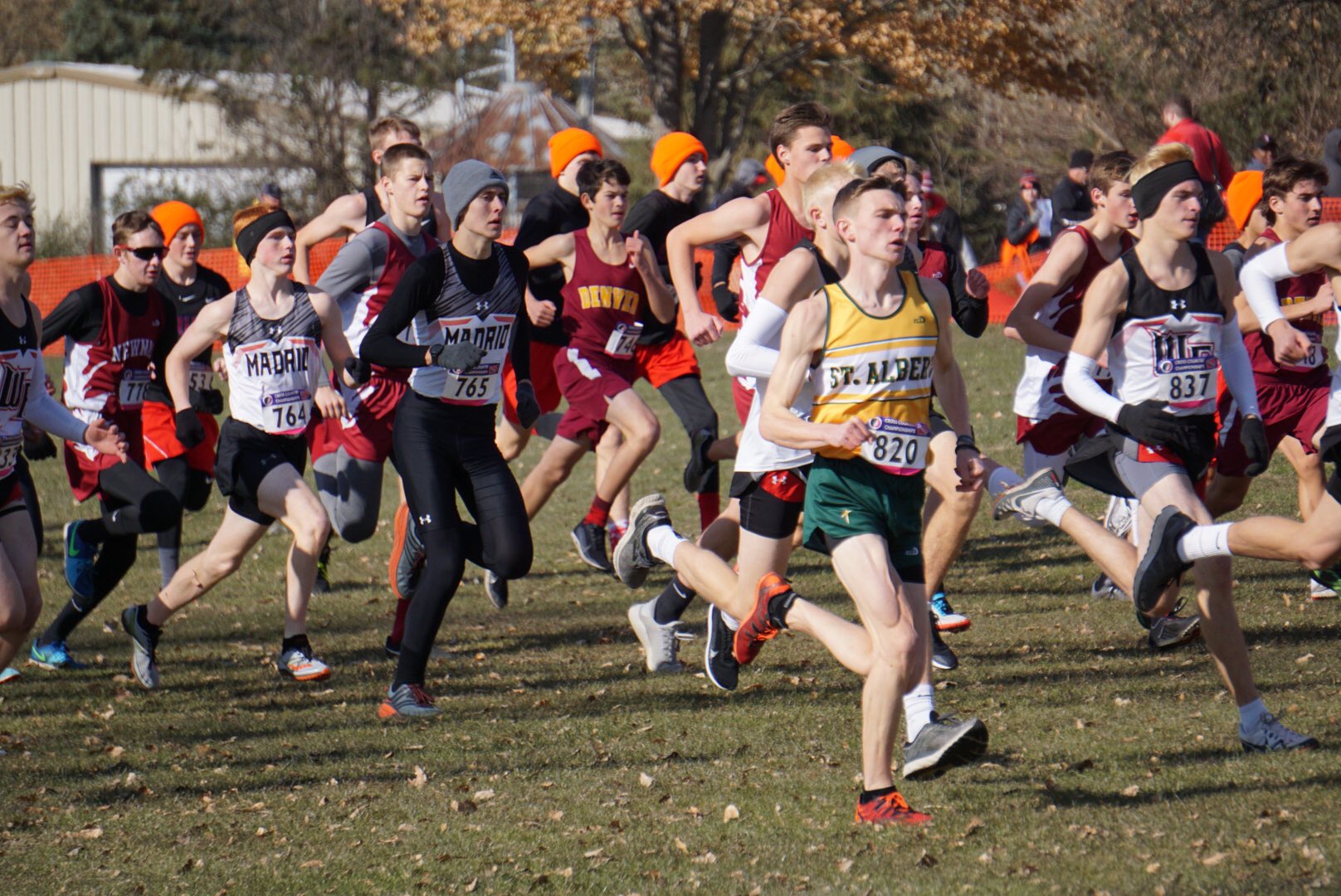 Bennett's Mad-Dash out of the starting gate on his way to a State Medal.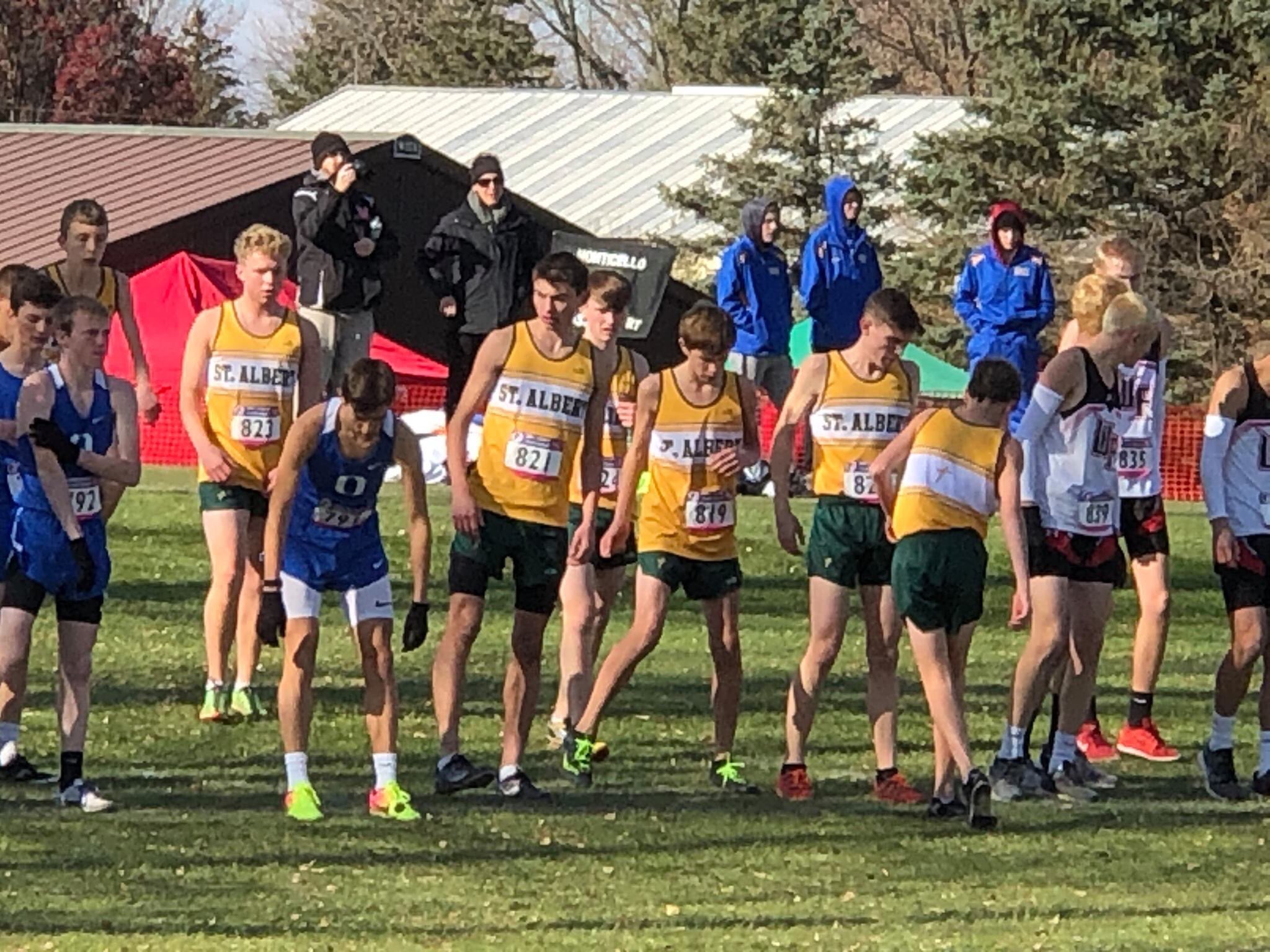 All 7 Saint Albert runners are stretching and strategizing how they are going to get out of the gate fast and finish strong.
How all good things begin at St. Albert... with Prayer.
Freshman Colin Lillie is having the time of his life!!
The Torch is being passed from one sibling to another.
(L-R): Parker Heisterkamp (7th), Ryan Hughes (12), Bennett Heisterkamp (12), Joe Hughes (7th).
--------------------------------

Front Row (L-R):Zach Williams, Adam Denny, Nick Lee, Hayden Piskorksi, Camren Mardesen, Colin Lillie. Back Row (L-R): Bennet Heisterkamp, Elliott Shaw, Ryan Hughes, Alex Gast, Chase Morton, Jason Mardesen.
2019 Saint Albert Saintes Cross Country Team

(L-R): Carly McKeever, Ava Hughes, Keely Socha, Brenna Smith, Mallory Daley

Senior Bennett Heisterkamp is the 2019 Hawkeye 10 Conference Champion, Currently Ranked #4 in Class 1A, finished 2nd at the District Meet, and QUALIFIED individually for the State Cross Country Meet)

Falcons win the AHSTW Invitational

Falcons win the Woodbine Invitational
---
The TRADITION Continues-The Middle School Team
---
.
Activities Director Q & A: St. Albert's Ken Schreiber
Posted: 05/31/2020 - by Charlie Narmi
This week, The Nonpareil spoke to activities directors from the city as they prepare for the return of prep athletics with softball and
More...
St. Albert baseball hopeful to rely on pitching depth, consistent hitting
Posted: 05/29/2020 - by Charlie Narmi
The St. Albert Falcons return plenty of arms and the best hitting team in the Hawkeye Ten. This year, they hope to take advantage of their strengths
More...
St. Albert softball to open season June 15th against Harlan
Posted: 05/27/2020 - by Charlie Narmi
St. Albert has released their softball schedule for the 2020 season. The Saintes are slated to open the season June 15th at home against Harlan,
More...
Senior Journal: St. Albert's Veronica Svajgl
Posted: 05/27/2020 - by Charlie Narmi
Veronica Svajgl is a multi-sport standout at St. Albert. She reflected on a lost soccer season and graduating during the COVID-19 pandemic.As
More...
IHSAA, IGHSAU release more guidelines for return of summer sports
Posted: 05/27/2020 - by Charlie Narmi
The Iowa High School Athletic Association and Iowa Girls High School Athletic Union on Monday released more guidelines on how softball and baseball
More...
Roaring 2020's Auction, Moving Online!
Posted: 05/23/2020 - by Charlie Narmi
Hello, Saint Albert Families!My hopes and prayers are that you and your families are staying healthy and keeping safe during this time!On March
More...
Play Ball: Summer sports set to return on June 1; first games can be played June 15
Posted: 05/21/2020 - by Charlie Narmi
The ping of a bat connecting to a ball will soon be heard in Council Bluffs.Prep athletics will return with baseball and softball. Practices
More...
KMA Martin 2020 Hawkeye Ten Conference Baseball Preview
Posted: 04/30/2020 - by Charlie Narmi
The summer previews continue today with a shift over to the baseball side of the Hawkeye Ten Conference. If you missed the first
More...
KMA Martin Blog: 2020 Hawkeye Ten Conference Softball Preview
Posted: 04/28/2020 - by Charlie Narmi
Who's ready for the softball and baseball season? It could very well be right around the corner, so it's high time
More...