Saint Albert Cross Country
We hope that you enjoy the site and welcome your comments.
Please visit our advertisers as they help make this site happen.
Home of the 1992, 2007, 2011 & 2012 State Champs
Congrats to the Cross Country Team at State!!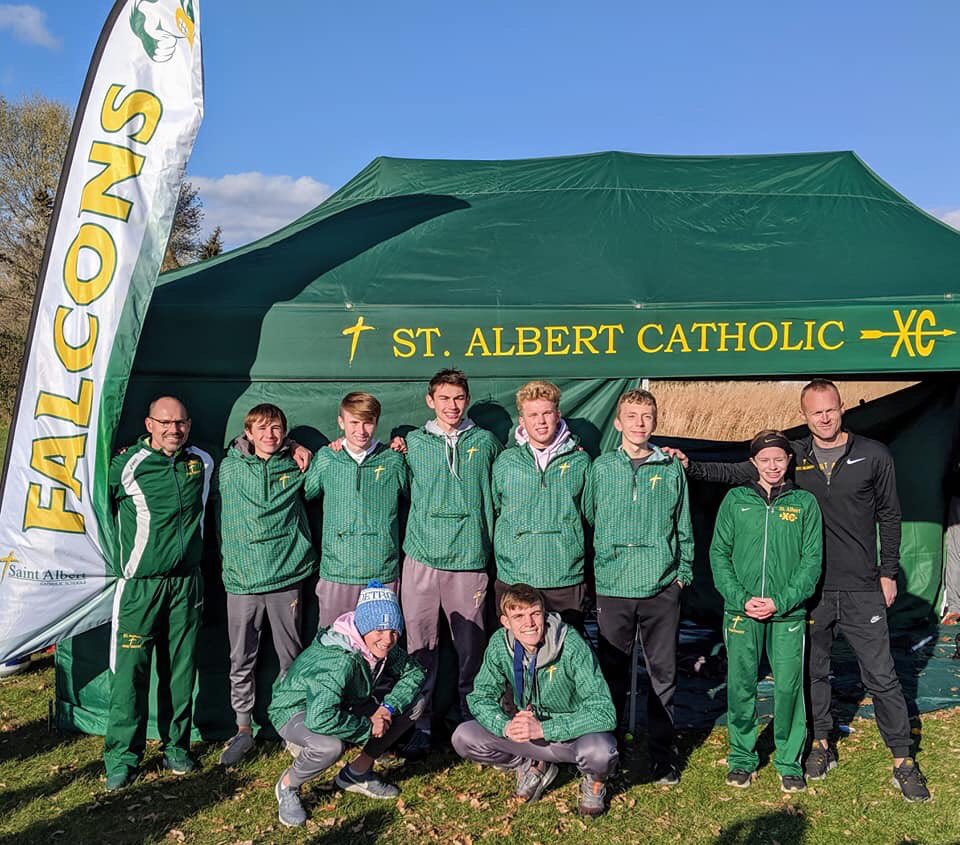 WE ARE……………SA!!
The Saint Albert Cross Country Team saved their best race of the season for the State Meet. Bennett Heisterkamp, ranked #6 in Class 1A coming into the State Meet, Medaled with a 4th Place Finish! The Saint Albert Boys Team, ranked #15 coming into the State Meet, finished in 7th place! Freshman Carly McKeever finished in the top-third in her first run at the State Meet!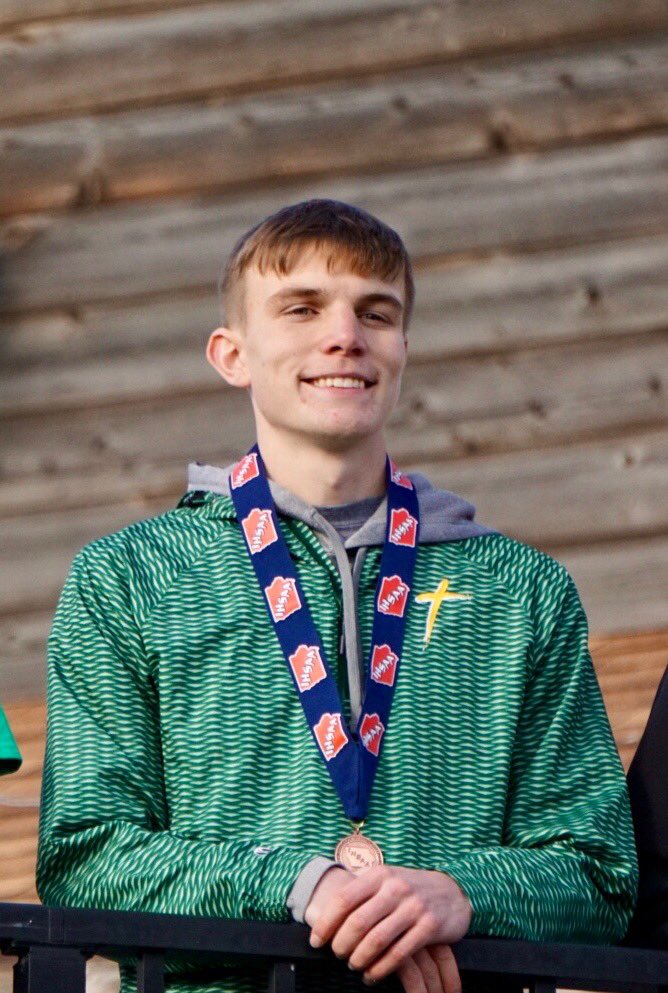 State Medalist-Bennett Heisterkamp.
Senior Leadership: Ryan Hughes, Bennett Heisterkamp, Nick Lee, and Jason Mardesen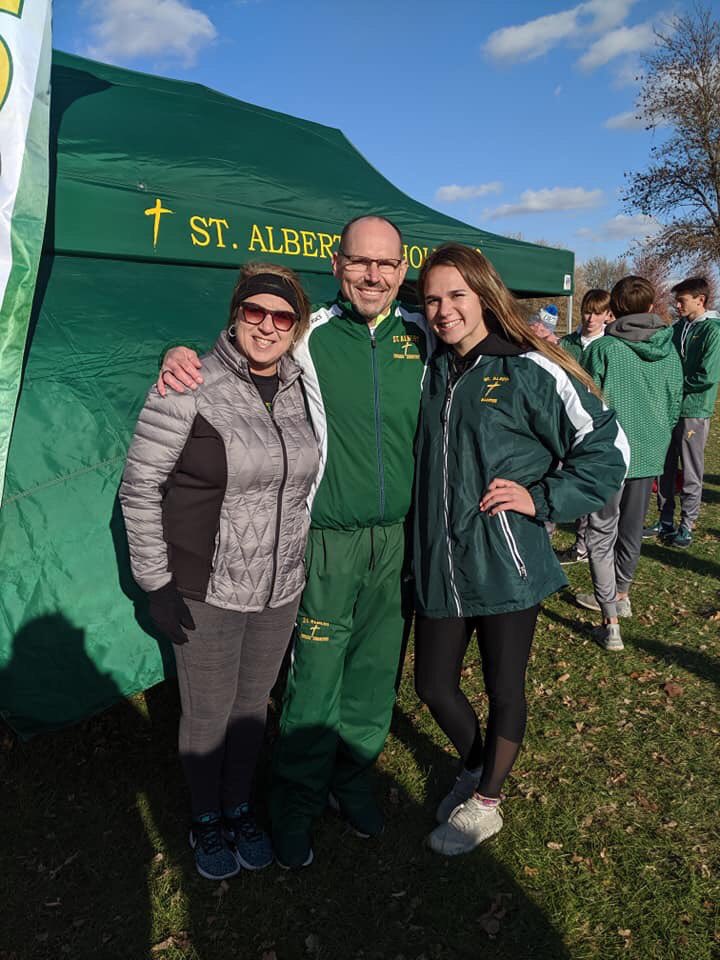 Team Statistician and Manager-Senior Jackie Sindelar, with her parents Kathy and Coach Russ Sindelar
Freshman Adam Denny helping his Team to a strong 7th Place Showing!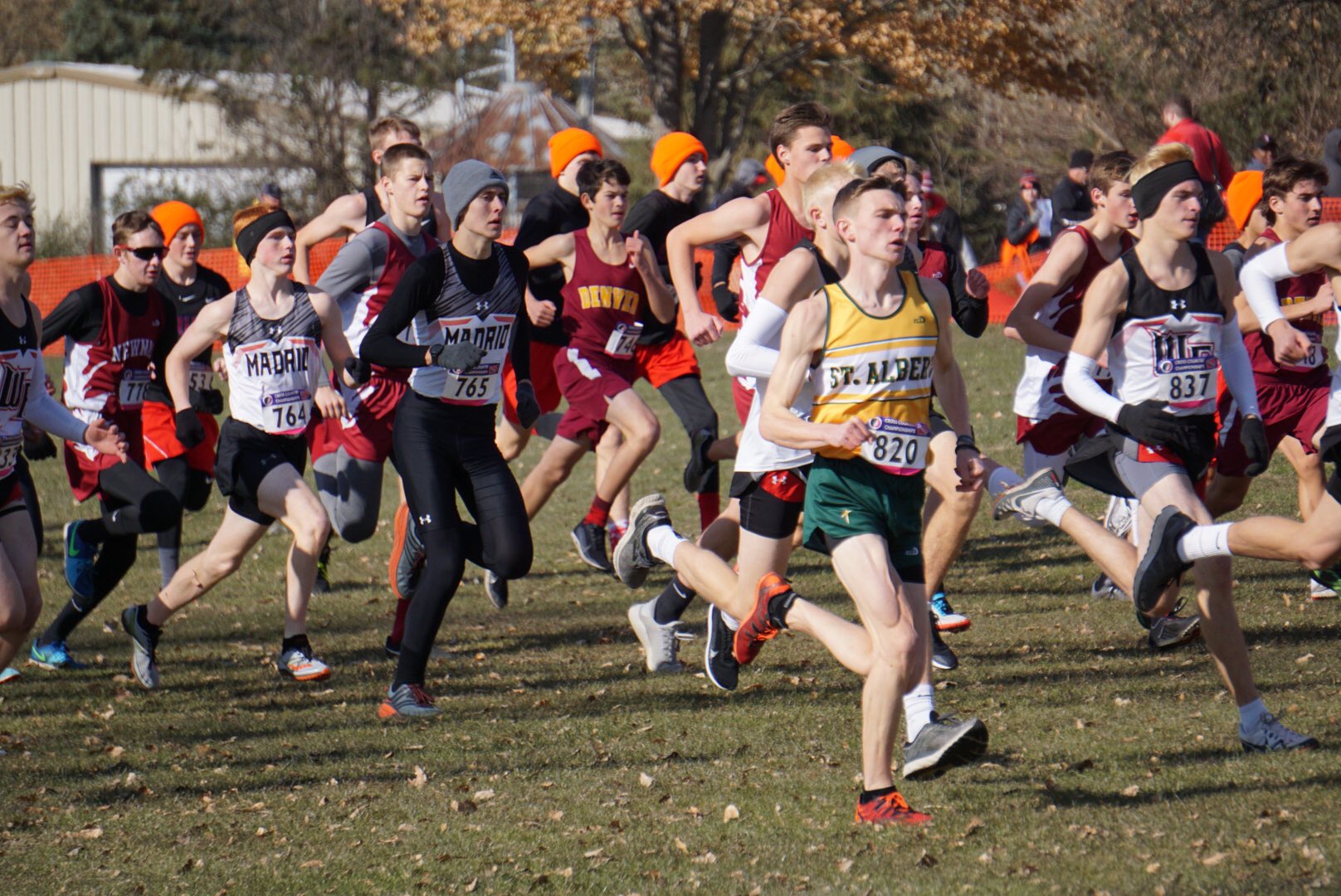 Bennett's Mad-Dash out of the starting gate on his way to a State Medal.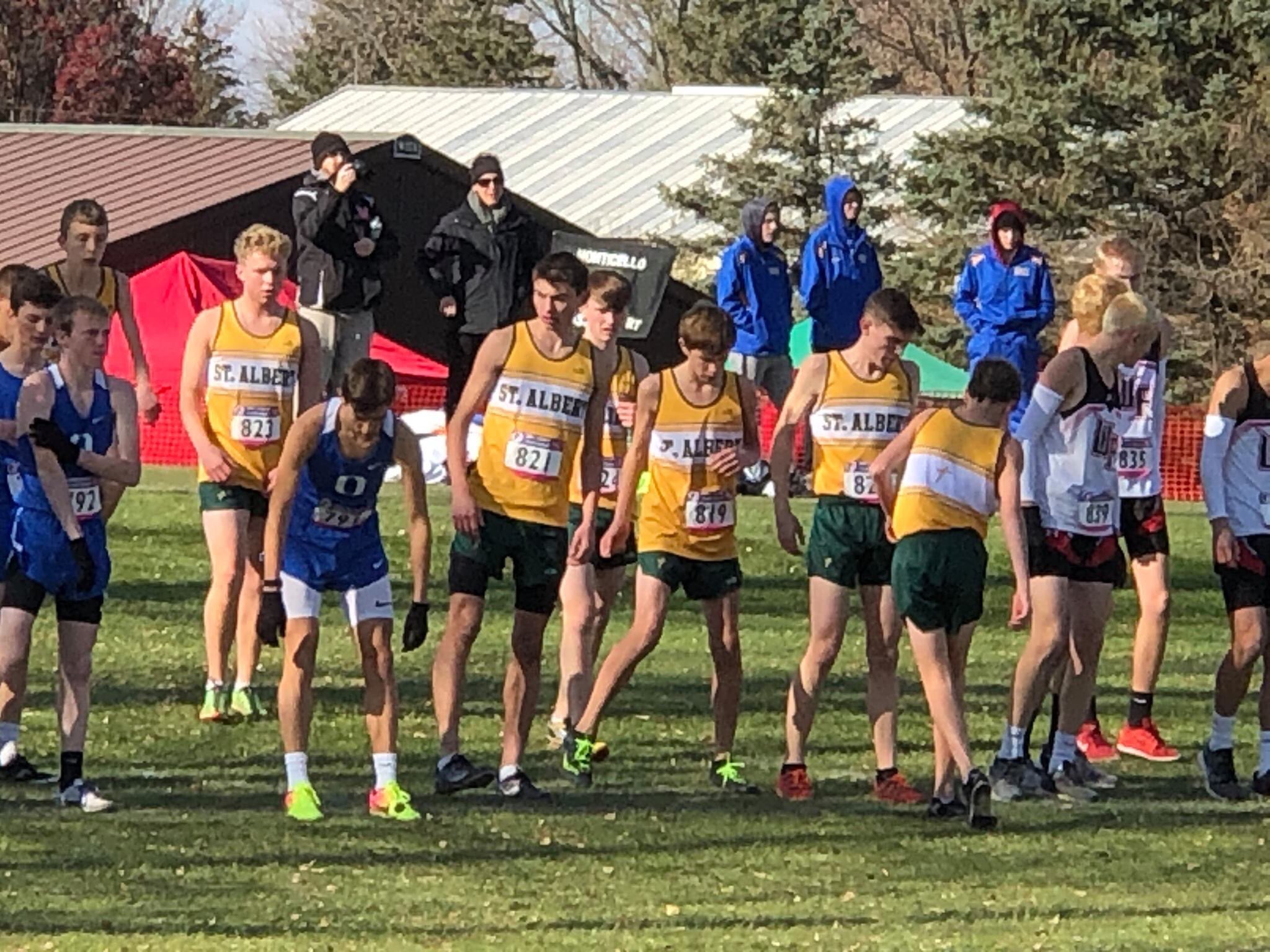 All 7 Saint Albert runners are stretching and strategizing how they are going to get out of the gate fast and finish strong.
How all good things begin at St. Albert... with Prayer.
Freshman Colin Lillie is having the time of his life!!
The Torch is being passed from one sibling to another.
(L-R): Parker Heisterkamp (7th), Ryan Hughes (12), Bennett Heisterkamp (12), Joe Hughes (7th).
--------------------------------

Front Row (L-R):Zach Williams, Adam Denny, Nick Lee, Hayden Piskorksi, Camren Mardesen, Colin Lillie. Back Row (L-R): Bennet Heisterkamp, Elliott Shaw, Ryan Hughes, Alex Gast, Chase Morton, Jason Mardesen.
2019 Saint Albert Saintes Cross Country Team

(L-R): Carly McKeever, Ava Hughes, Keely Socha, Brenna Smith, Mallory Daley

Senior Bennett Heisterkamp is the 2019 Hawkeye 10 Conference Champion, Currently Ranked #4 in Class 1A, finished 2nd at the District Meet, and QUALIFIED individually for the State Cross Country Meet)

Falcons win the AHSTW Invitational

Falcons win the Woodbine Invitational
---
The TRADITION Continues-The Middle School Team
---
.
Big fourth quarter pushes Yellow Jackets past Falcons
Posted: 01/28/2020 - by Charlie Narmi
Thomas Jefferson outscored St. Albert 21-6 in the fourth quarter, turning a two-point deficit at the start of the frame into...Click here to
More...
Defense helps push T.J. girls past St. Albert
Posted: 01/28/2020 - by Charlie Narmi
Defense has been the Thomas Jefferson girls basketball team's calling card all season, and Monday against St. Albert, the Yellow Jackets
More...
St. Albert Blesses New Expansion Room at The Sheryl K. Johnson Child Care Center
Posted: 01/27/2020 - by Charlie Narmi
I Put On My Deacon Hat For A While Today The administrative responsibilities of running a school consume a lot of time. It is always refreshing
More...
Catholic Schools Week 2020
Posted: 01/26/2020 - by Charlie Narmi
Dear Friends of Saint Albert, Learn. Serve. Lead. Succeed. These four words paint a picture of what is happening every day at Saint Albert Catholic
More...
Bruckner, Knedler to be honored at 2020 Mercy Heritage Awards
Posted: 01/26/2020 - by Charlie Narmi
A nice honor for St. Albert Mom and supporter, Marie Knedler...Bruckner, Knedler to be honored at 2020 Mercy Heritage AwardsMartha Bruckner,
More...
Louis Eckrich obituary
Posted: 01/25/2020 - by Charlie Narmi
More...
St. Albert teams shine at robotics championship
Posted: 01/25/2020 - by Charlie Narmi
Two St. Albert High School robotics teams will advance to the FIRST Tech Challenge Superqualifier after strong performances at the Alderaan Megaleague
More...
Open house to kick off Catholic Schools Week
Posted: 01/24/2020 - by Charlie Narmi
Catholic Schools Week activities will kick off this weekend with an open house from 1 to 3 p.m. Sunday at St. Albert Catholic Schools...Click
More...
A Powerful Pro-Life Message At A Funeral
Posted: 01/23/2020 - by Charlie Narmi
From Executive Director, Deacon DoblemannYesterday marked the 47th anniversary of the Roe versus Wade decision by the U.S Supreme Court legalizing
More...
Attributes On The Stairs Of Success
Posted: 01/22/2020 - by Charlie Narmi
From Deacon Doblemann's blog: Watching the cable "news" shows can be a depressing venture. Regardless of which side of the political
More...
Nonpareil Face of the Day: Macy Higginbotham
Posted: 01/22/2020 - by Charlie Narmi
Macy Higginbotham is "really excited" to start the next chapter in her life, but not before taking in the rest of her high school
More...
Introducing Exact Path
Posted: 01/20/2020 - by Charlie Narmi
Greetings Saint Albert Families! I want to inform you of a pilot program that teachers Kindergarten through 10th grade will be implementing
More...
An Update from Catholic Tuition Organization
Posted: 01/07/2020 - by Charlie Narmi
What a year! Through your generosity and willingness to tell your friends about CTO, we reached our largest goal in history: $3,386,434!
More...
Implementing A Strategic Plan One Step At A Time
Posted: 01/02/2020 - by Charlie Narmi
From St. Albert's Executive Director, Deacon Doblemann and his blog at www.deaconvernon.com - St. Albert is on the move! We are two days into
More...